Raspberry Ice Cream Sundae
Super Easy
Swap out the raspberries for blackberries or strawberries - a perfect recipe for celebrating the fruit of the season!
Who doesn't love a scrumptious ice cream sundae? Try our version with different flavours of ice cream, crushed meringue, fresh raspberry sauce and covered in our delicious Original Drizzle!
Nutrition and allergy information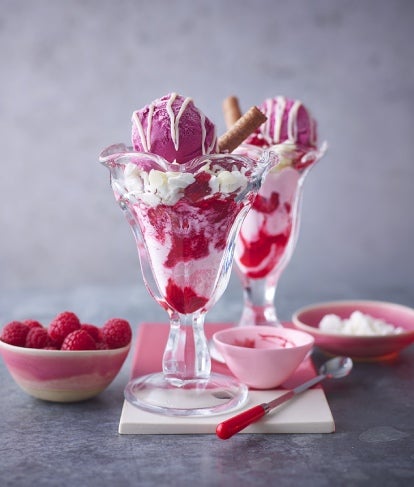 Be the first to review this recipe!
---
To make 1 sundae (serves 2)
Reduced fat raspberry ice cream or frozen yogurt
2 ice cream biscuits (optional)
You will also need:
1 tall sundae glass or tumbler and long spoons
Step 1 of 2
Squeeze the Carnation Original Drizzle around the inside of the sundae glass or tumbler.
Step 2 of 2
Layer up the ingredients finishing with a squirt of aerosol cream, a few raspberries and an extra squeeze of the original drizzle.  Take 2 spoons and share with a friend!
Have you tried making this delicious recipe yet?
Let us know by reviewing it below