Super Easy
Got a glut of bananas going overripe in your fruit bowl? Here's our ultimate banana bread recipe – moist and soft inside with a delicious banana flavour, so easy to make – the whole family will love it!
Nutrition and allergy information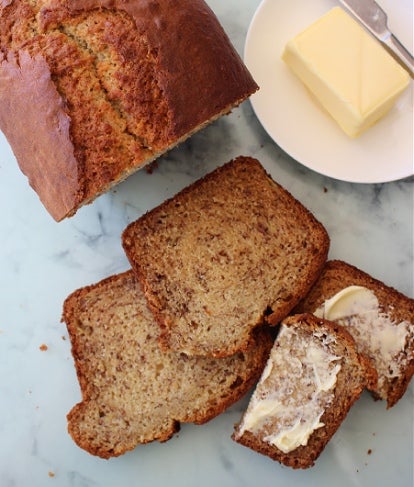 Satisfied customer! Easy recipe to follow and very satisfied with result. It was well risen and was moist and tasty..
---
Buttery spread or butter, melted
vanilla extract (optional)
Step 1 of 5
Preheat the oven to 180°C (160°C for fan ovens), Gas Mark 4.
Step 2 of 5
Slice the bananas into a bowl and then mash with a fork.
Step 3 of 5
Place the mashed banana, condensed milk, buttery spread, egg and vanilla in a large bowl with a pinch of salt and beat to combine.
Step 4 of 5
Mix in the flour, baking powder and baking soda.
Step 5 of 5
Pour the mixture into the prepared loaf tin and bake for 60-80 minutes, or until a cake skewer inserted into the centre of the loaf comes out clean. Remove from the oven and set aside for 10 minutes. Turn onto a wire rack to cool completely before slicing.
If the top is getting too brown and the centre still not baked through, cover with a piece of parchment or loosely with foil for the remaining 10-15 minutes of cooking.
Have you tried making this delicious recipe yet?
Let us know by reviewing it below