Valentine's Churros with Chocolate Sauce
Quite Easy
Love is sweet, so why not make your valentine this gorgeous treat!
Nutrition and allergy information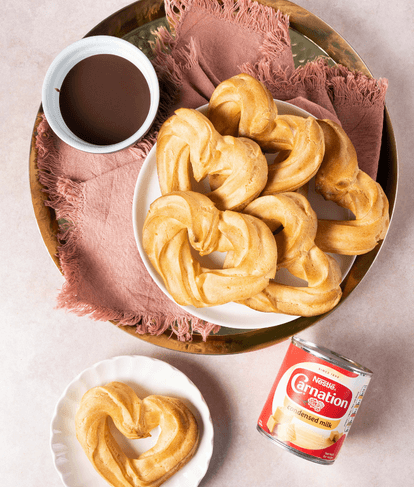 I love churros and this recipe satisfies the craving for them. Delicious!!
---
Chocolate (we like half milk/ half dark, but can be adapted to preference)
Step 1 of 3
Place butter, sugar and water in a saucepan. Melt together then bring to boil. Once boiling, remove from heat and immediately dump in flour and salt, beating to combine. Leave to cool for 10 minutes.
Step 2 of 3
Then add in the eggs and beat until the mixture is thick and smooth. Transfer to a piping bag and pipe heart shapes onto a couple of lined baking trays, then bake @200C for 12-15 minutes until golden and hollow. Cool.
Step 3 of 3
For the chocolate sauce, melt condensed milk and chocolate together until smooth. Add in butter, stir in to melt until silky and enjoy immediately to dip churros in.
Have you tried making this delicious recipe yet?
Let us know by reviewing it below