Carnation Bouquet Cupcakes
Super Easy
Have a look at our new Mother's Day recipe showstopper. This edible bouquet is not only delicious but easy on the eyes too!
Nutrition and allergy information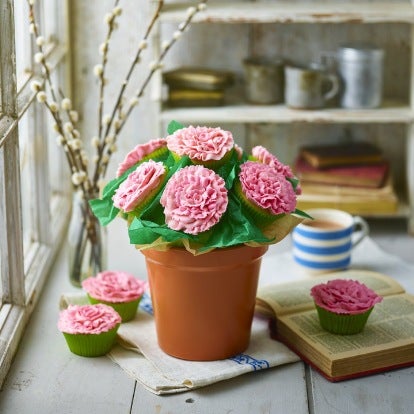 Easy, delicious and so pretty - An easy to follow recipe that tastes delicious (I think I might be converted to condensed milk in...
---
Few drops vanilla extract
*Recipe is based on 70% fat buttery spread
12 hole muffin tin and muffin cases, preferable green or floral 
Petal nozzle 
Piping bag 
Polystyrene sphere / hemisphere, can be found in craft shops 
Flowerpot, large enough to accommodate the polystyrene sphere 
Cocktail sticks 
Baking paper
Step 1 of 5
Watch our quick video first to see how these tasty cakes are made.
Step 2 of 5
Preheat oven to 180°C (160°C for fan ovens), Gas Mark 4.Place the cupcake ingredients in a bowl and beat with an electric hand mixer for 2-3 minutes until pale and creamy. Spoon mixture into the muffin cases. Bake for 15-18 minutes until springy and golden. Transfer to a cooling rack to cool.
Step 3 of 5
Using an electric whisk, beat the icing sugar, buttery baking spread and, vanilla extract with enough condensed milk to make a thick icing. Put half of the icing in a separate bowl and colour with a little pink colouring, colour the remaining icing with more pink icing so you have two shades of pink.
Step 4 of 5
Using a petal nozzle on a piping bag, fill the two shades of icing on either side of the bag. Pipe in an irregular spiral from the middle of the cake outwards. Once the cupcakes are iced you can leave them in the fridge for the icing to firm up whilst you assemble the flowerpot.
Step 5 of 5
Cover the polystyrene sphere in green tissue paper and place it on top of a larger piece of square of baking paper and sit it on top of the flowerpot. Push cocktail sticks halfway into the polystyrene and then place your cupackes onto the sticks. Fold pieces of tissue paper and fill in the gaps between the cupcakes.
Have you tried making this delicious recipe yet?
Let us know by reviewing it below