Simple Summer Berry Trifle
Super Easy
Everyone needs to have a good trifle recipe in their repertoire… great for BBQs, seasonal gatherings and Sunday puddings. For best results make this trifle the day before and leave in the fridge overnight. Try adding a dash of sherry to the berries for a more grown up treat.
Nutrition and allergy information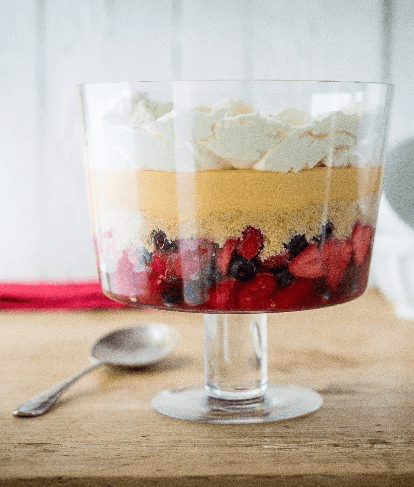 Be the first to review this recipe!
---
Strawberries, de-stalked and halved
Madeira cake (approx 300g)
Step 1 of 3
For the custard: Mix the evaporated milk, sugar, and custard powder together in a small saucepan. Place over a medium heat and slowly bring to a simmer whilst stirring. Once the custard has thickened, remove from the heat and allow to cool. Cover the saucepan with a lid or plate whilst it is cooling to prevent a skin forming on the top of the custard.
Step 2 of 3
Whilst the custard is cooling, wash the berries and then tip into a large bowl. Add the strawberry jam, mix through, and put to one side. Use a food processor to crumb the madeira cake until it resembles bread crumbs. Finally, in a separate bowl whip the cream until it is light and fluffy and holds its own soft peaks.
Step 3 of 3
In a large glass bowl, layer the berries and crumbs starting with the berries. After each additional layer give the bowl a gentle shake. Pour the custard over the last berry layer and finally spoon over the cream and spread over evenly. Chill until ready to serve.
Have you tried making this delicious recipe yet?
Let us know by reviewing it below