Super Easy
Whip up a taste of summer with our Gooseberry Fool recipe. It's the perfect contrast of flavours with tangy gooseberries and rich cream. Served chilled, it makes a tempting dessert for warm summer days with your loved ones. It only takes 30 minutes to make too so you're only a short time away from pudding perfection.
Nutrition and allergy information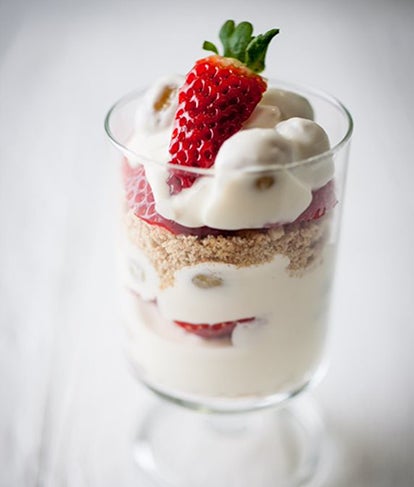 Be the first to review this recipe!
---
Step 1 of 3
To make the custard, place the evaporated milk and corn flour in a saucepan and slowly bring to the boil, stirring constantly. Meanwhile mix the eggs, egg yolks, vanilla and condensed milk together in a glass bowl. Put over a pan of boiling water and heat whilst stirring until thickened. Set aside to cool.
Step 2 of 3
Whip the cream until it thickens and forms stiff peaks. Fold the whipped cream gently through the cool custard.
Step 3 of 3
Drain the gooseberries. Layer the custard mixture with the gooseberries in small serving bowls and chill in the fridge for 2 hours or overnight.
Swap our the tinned gooseberries for tinned rhubarb for a taste of your childhood - or better still make your own fruit compote and stir through the creamy mixture to taste. Yum! 
Have you tried making this delicious recipe yet?
Let us know by reviewing it below