Biscoff KitKat Cheesecake Bites
Super Easy
We took one look at the new KitKat® Bites with Lotus Biscoff and knew exactly what had to be done...
Creamy Carnation cheesecake, sandwiched between a base of Lotus Biscoff biscuit crumb and a layer of smooth Lotus Biscoff spread, before being topped with those deliciously crispy KitKat® Bites with Lotus Biscoff.

It was quite simply love at first bite.
Nutrition and allergy information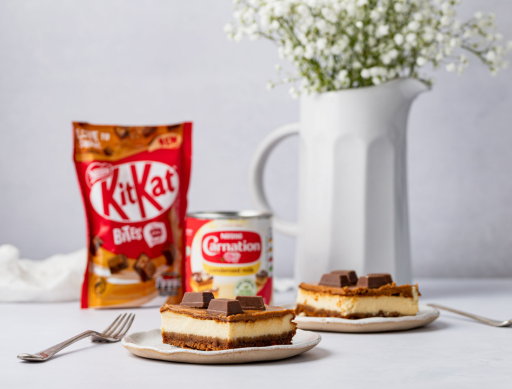 Be the first to leave a review!
---
Biscoff biscuits, crushed
Buttery baking spread, melted
Carnation Sweetened Condensed Milk
Light cream cheese, room temperature
Lotus Biscoff Spread (smooth), melted
KitKat® Bites with Lotus Biscoff
Step 1 of 6
Preheat the oven to 180°C, (160°C for fan ovens), Gas Mark 4.
Step 2 of 6
Mix together the crushed biscuits and melted baking spread. Press into the base of the tin and pop in the oven to bake for 10 minutes until set. Remove from the oven and allow to cool.
Step 3 of 6
Using an electric hand mixer, beat the cream cheese on a medium speed until soft whilst gradually adding the condensed milk, Once combine, add the eggs, crème fraiche and vanilla and beat until very smooth. Gently pour the mixture over the set biscuit base.
Step 4 of 6
Place the cheesecake in the centre of the oven for about 45 minutes, or until lightly golden. The centre may still be a little soft with a slight jiggle, but it should look set and not be a wet batter. Turn off the oven, without opening the door, and leave for 1 hour to set. 
Step 5 of 6
Once the pan is cool to the touch, transfer to the fridge and chill for 4 hours. Once set, gently melt the Lotus Biscoff Spread in the microwave until it's reached a runny consistency and spread over the top of the cheesecake. Top with the KitKat® Bites with Lotus Biscoff and return to the fridge until ready to serve.
Step 6 of 6
When ready to serve, using a sharp knife, cut into 20 squares. Enjoy!
Have you tried making this delicious recipe yet?
Let us know by reviewing it below