Super Easy
We've used our Carnation Fat Free Condensed Milk for a lighter take on our classic Key Lime Pie recipe. A crispy base and smooth zesty filling makes for a super summery dessert that the whole family can enjoy.
Nutrition and allergy information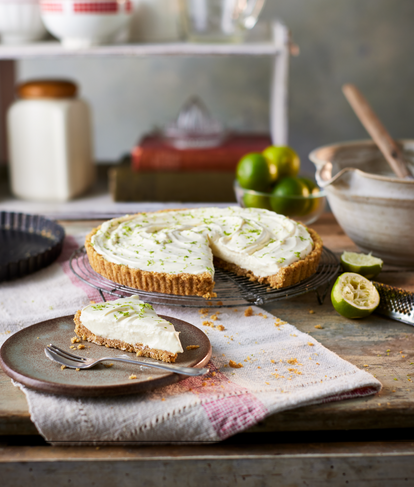 Delicious recipe easy to make refreshing lovely dessert huge success with the family
---
You will also need:
23cm (9in) round, fluted, loose-bottomed tart tin
Step 1 of 3
Mix the crushed biscuits with the melted baking spread in a bowl and press the crumbs into the base and up the sides of the tin. Chill for ten minutes.
Step 2 of 3
Place the condensed milk into a bowl and add the lime juice, stir together until the mixture has thickened.
Step 3 of 3
Whisk the cream cheese and yogurt in a small bowl until smooth then fold into the thickened condensed milk. Spoon the creamy mixture over the biscuits and top with the lime zest. Chill for at least 30 minutes to 1 hour.
Have you tried making this delicious recipe yet?
Let us know by reviewing it below