Bit Tricky
Just when you thought Banoffee Pie couldn't get better... here it is! Indulgent, fudgy, chocolate Banoffee Pie with dark chocolate, bananas and cream inside a crushed dark chocolate biscuit base… 
Nutrition and allergy information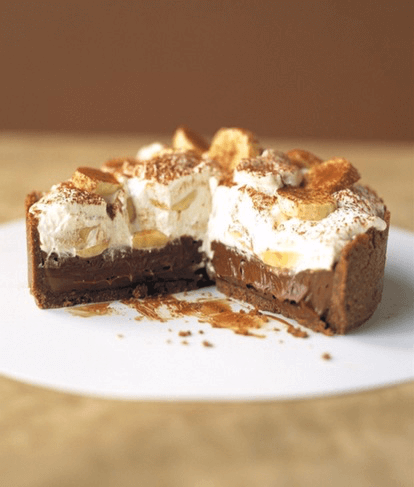 What an easy and amazingly tasty recipe! Carnation products are so versatile they make recipes so simple and tasty!
---
Buttery baking spread*, melted
Reduced fat dark chocolate digestive biscuits, crushed
Dark chocolate, melted (we like 70% cocoa solids chocolate)
Carton whipping cream, whipped to soft peaks
* Recipe is based on 70% fat buttery baking spread
20cm loose-bottomed cake tin
Step 1 of 3
Put the crushed biscuits into a bowl with the melted spread. Mix it together thoroughly, then press the mixture into the base and sides of the tin. Chill for 30 minutes or freeze for 15 minutes.
Step 2 of 3
Melt the chocolate gently in the microwave then mix in the caramel. Beat until smooth and spread the filling over the biscuit base and chill for about 1 hour.  
Step 3 of 3
Slice the bananas, fold half into the whipped cream and spoon over the base. Decorate with the remaining bananas and dust liberally with cocoa powder. Chill until ready to serve.
Have you tried making this delicious recipe yet?
Let us know by reviewing it below