Quite Easy
Our Easy Lemon Drizzle Cake recipe is well-loved by bakers. The moist lemon sponge drenched in tangy lemon syrup and topped with lemon icing makes it a citrus lovers' dream. . No special techniques are needed with our recipe either, just whisk everything together and go!
Nutrition and allergy information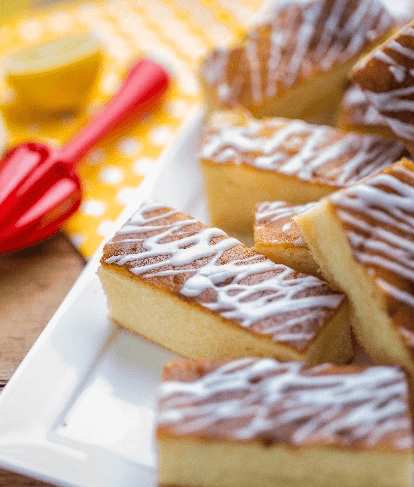 Family favourite. I have made this cake twice now. Lovely moist sponge. It's a real hit with my family.
---
Finely grated zest and juice of a lemon
*recipe based on 70% fat buttery baking spread
You will also need...
20cm spring form cake tin lined or 18x28cm flapjack tin with baking parchment.
Step 1 of 3
Preheat the oven to 180°C, (160°C for fan ovens), Gas Mark 4. Whisk the ingredients for the easy lemon drizzle cake recipe in a large bowl until pale and creamy (use an electric hand whisk if you have one). Pour into the tin and bake for 55-65 minutes until golden and cooked through (cover with parchment if the top turns too brown).
Step 2 of 3
Reserve 1tbsp lemon juice from the 2 juiced lemons to make the icing. Make the syrup by warming together the remaining lemon juice and icing sugar. Whilst the cake is still warm, make holes all over it with a skewer and gradually spoon over the syrup, allowing it to sink into the cake. Leave to cool in the tin.
Step 3 of 3
Make the icing: add the reserved lemon juice gradually to the icing sugar until you have a pouring consistency. When the cake is cool, transfer to a serving plate and drizzle over the lemon icing.
Have you tried making this delicious recipe yet?
Let us know by reviewing it below