Dark Chocolate Biscoff Fudge
Super Easy
Biscoff and dark chocolate – a match made in heaven. This fudge is super easy to make and the outcome is absolutely delicious (if we do say so ourselves!). 
Nutrition and allergy information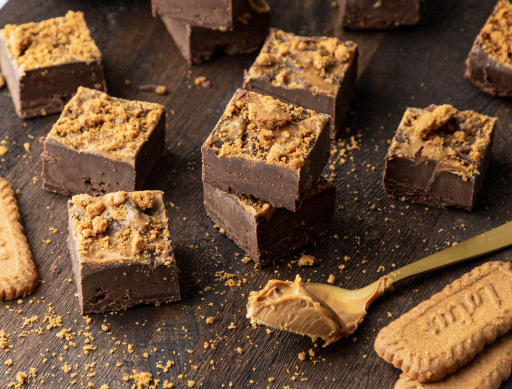 This recipe really is super easy to make and taste lush. I've added the fudge to my home made family Christmas hampers package....
---
Biscoff biscuits, crumbled
20cm square tin, lined with baking parchment
Step 1 of 4
Break or chop the chocolate into small chunks and place in a non-stick saucepan with the condensed milk. Melt the ingredients gently over a low-medium heat, stirring occasionally until smooth and silky. (You can also melt it in the microwave in 10-20 second bursts, stirring frequently).
Step 2 of 4
Press the fudge into the tin and whilst it's still warm, dot spoonful's of the melted Biscoff spread over the top. Swirl the Biscoff through the mix using a butter knife or a skewer.
Step 3 of 4
Sprinkle the crushed Lotus Biscuits over the top of the mix.
Step 4 of 4
Chill in the fridge for 1 hour or until set, then cut it into squares
TIP: Store the fudge in an airtight container in the fridge for up to two weeks or you can freeze it (the fudge won't 'freeze' solid but it will keep for up to 1 month like this).
Have you tried making this delicious recipe yet?
Let us know by reviewing it below