Super Easy
Treat the family to a fabulous seasonal treat this Christmas with our Christmas Ice Cream recipe. Made with our Carnation Condensed Milk for a sublimely smooth texture with brandy and soft dried fruits. Our Christmas Ice Cream recipe is perfect during the holiday period when you need a crowd-pleasing dessert that's ready and waiting in the freezer!
 
Nutrition and allergy information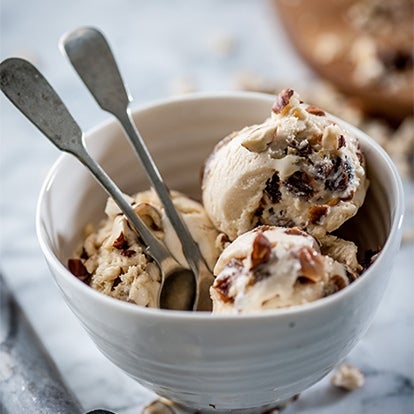 Be the first to review this recipe!
---
Step 2 of 4
Place the mixed fruit into a small saucepan, pour over the brandy and cover with 100ml of water. Place on a medium heat and cook until most of the liquid has boiled away. Remove from the heat and allow to cool.
Step 3 of 4
Beat the evaporated milk until light and frothy. In a separate bowl beat the condensed milk until it is fluffy and white. Fold the whipped evaporated milk into the condensed milk and then stir through the cooled mixed fruit.
Step 4 of 4
To serve, remove the ice cream from the freezer 5 minutes before serving, then top with your favourite sauce.
Have you tried making this delicious recipe yet?
Let us know by reviewing it below