After Eight White Chocolate Fudge
Super Easy
This recipe is so versatile we've had so much fun experimenting with different flavours - this After Eight white chocolate fudge version was loved and adored by our tasting team - we hope you love it too! 
Make sure that when you add the After Eights that the white chocolate fudge mixture is no longer warm or the mints will melt into the mixture.  Allow it to cool a little first and then get it into the fridge quickly to set.
Nutrition and allergy information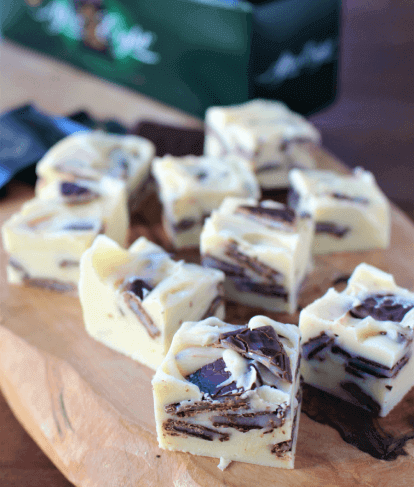 ---
Step 1 of 4
Break or chop the white chocolate into small chunks and place in a non-stick saucepan with the condensed milk. Melt the ingredients gently over a low-medium heat, stirring occasionally until smooth and silky. (Alternatively melt in the microwave in 10-20 second bursts, stirring frequently).
Step 2 of 4
Add a few drops of peppermint to the mixture and stir well, taste the mixture to check its nice and minty. Before you chop the After Eights and stir them in, check that the fudge mixture is not warm. If it is transfer it to a new bowl and leave it to cool, stirring occasionally to stop it setting.  Once at room temp, chop the mints and stir through.
Step 3 of 4
Line the tin with baking parchment so that it overlaps the sides (this will help you lift the fudge out once it's set). Press the fudge into the tin.
Step 4 of 4
Chill the fudge for 1-2 hours or until completely set before cutting. The fudge will keep in the fridge for up to 2 weeks (if it lasts that long!).
Have you tried making this delicious recipe yet?
Let us know by reviewing it below