Low Fat Raspberry Cheesecake Pots
Super Easy
These are so speedy that if you're in a hurry you can just make them and eat them straight away! Mix and match fruit as you like or simply top with lemon curd if you prefer...
We love raspberries especially British ones when in season… try them in this super speedy cheesecake pots, sweet, creamy and low in fat too (shh!)
Nutrition and allergy information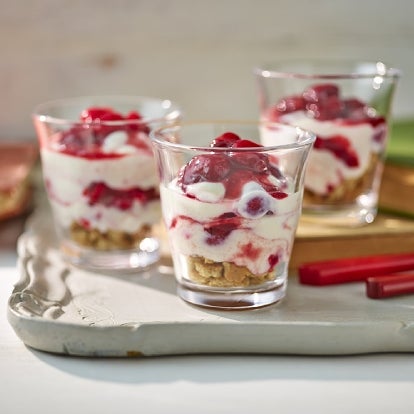 Be the first to review this recipe!
---
Step 1 of 4
Crumble the biscuits in your fingers, not too fine. Divide the crumbs between 6 wine glasses or small tumblers.
Step 2 of 4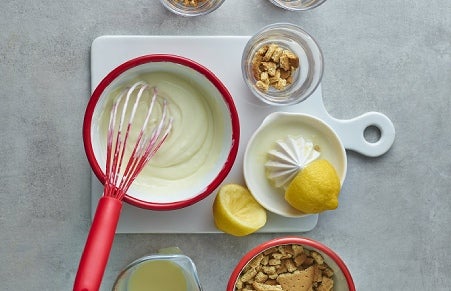 Place the condensed milk into a bowl and add the lemon juice, stir together until the mixture has thickened. Whisk the cream cheese and yogurt in a small bowl until smooth then fold into the thickened condensed milk. 
Step 3 of 4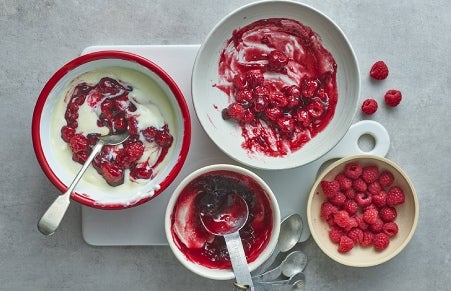 Beat the berries with the jam in a small bowl and gently ripple most of the jammy berries through the creamy filling, reserving a few spoonfuls for the tops.
Step 4 of 4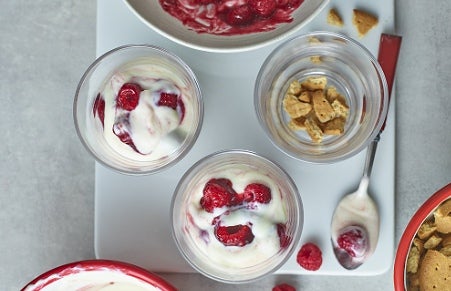 Spoon the cheesecake mixture over the biscuits, topping each with a little of the reserved berries.  Chill for at least 30 minutes to 1 hour before diving in!
Have you tried making this delicious recipe yet?
Let us know by reviewing it below