Quite Easy
In only 35 minutes everyone in the family will be sinking their teeth into the rich layer of delicious icing on top of a velvety soft vanilla sponge cake. This soft and fluffy Carnation vanilla cupcakes recipe is super easy to make! And there are endless ways to decorate and make them your own - guaranteeing to be a huge hit at any birthday, party or treat time.
Nutrition and allergy information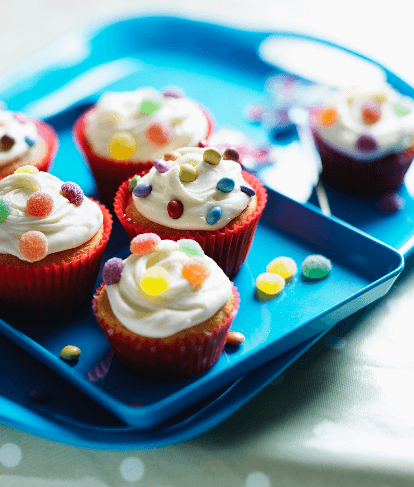 Be the first to review this recipe!
---
Few drops vanilla extract
Sugar sprinkles or cake decorations
*recipe is based on 70% fat buttery spread
You will also need...
A 12 hole muffin tin and muffin cases
Step 1 of 4
Watch our short video to see how simple these vanilla cupcakes are to make!
Step 2 of 4
Preheat the oven to 180°C, (160°C for fan ovens), Gas Mark 4.
Step 3 of 4
Put the cupcake ingredients in a bowl and beat (use an electric hand mixer if you have one!) until light and creamy.
For perfectly even cupcakes use an ice cream scoop to put the mixture into the cases.
Step 4 of 4
When cool, beat the icing sugar, buttery baking spread and vanilla with enough condensed milk to make a thick icing. Spread or pipe onto the cakes. Add natural colours and finish with a few sugar decorations!
There are endless ways to decorate your cupakes – try edible glitter, sugar shapes or sprinkles.
Have you tried making this delicious recipe yet?
Let us know by reviewing it below