Super Easy
Like pineapple and pizza, some things are just meant to be. We've paired our Cookie Dough and Vanilla Ice Cream recipes to create a delicious match made in heaven.
Nutrition and allergy information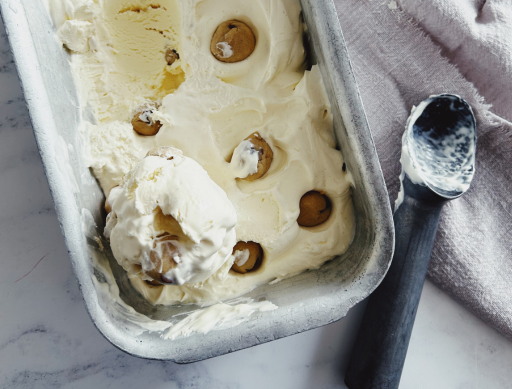 Be the first to leave a review!
---
Vanilla bean paste or vanilla extract
Baking tray lined with parchment paper
Step 1 of 7
For the cookie dough: preheat the oven to 180˚C, (160˚C for fan ovens), gas mark 4.
Step 2 of 7
Spread the flour our over a baking tray and heat in the oven for 7 minutes. Don't skip this step as it makes the flour safe to eat raw! Leave to the side to cool for 10 minutes.
Step 3 of 7
Beat the sugars together with the butter and condensed milk and vanilla extract until light and airy.
Step 4 of 7
Sift the cooled flour into the mixture and fold in, mix through the chocolate chips to finish. Roll into small balls and place on the lined baking tray. Pop in the fridge to firm up whilst you make the ice-cream.
Step 5 of 7
For the ice cream: add the cream to a large bowl and using an electric hand whisk, beat the cream to soft peaks. Add the Fat Free Condensed Milk and vanilla and beat again to soft peaks.

 
Step 6 of 7
Gently fold in the chilled cookie dough balls. Be careful not to overmix as this will deflate your ice cream mix.
Step 7 of 7
Decant the ice cream into a freezer safe container. Freeze until solid (about 3-4 hours or overnight).
Have you tried making this delicious recipe yet?
Let us know by reviewing it below