Quite Easy
Fresh and zesty this key lime pie is a perfect pudding – just as zingy and delicious as the non-vegan version!
If you don't fancy making the aquafaba (which is the easy way to make vegan meringue) you can top the pie with plant based whipping cream or crème fraiche alternative instead.
Nutrition and allergy information
Be the first to review this recipe!
---
vegan speculoos biscuits, such as Biscoff
Vegan butter alternative, such as Stork baking block
Zest and juice 2 limes, plus 1 extra to decorate
Few drops green food colouring (optional)
For the aquafaba 'whipped cream':
Drained water from a 400g can chickpeas
Vanilla extract or vanilla bean paste
20cm fluted loose bottomed flan tin, lightly greased
Step 1 of 6
Crush the biscuits in a blender or place the biscuits into a food bag and crush with a rolling pin.
Step 2 of 6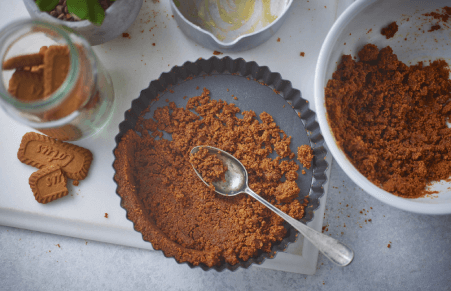 Melt the butter and mix into the biscuits and then tip the crumbs into the tin and push them against the sides and base of the tin to make the base.  Chill or freeze for 10 minutes until the base is set.
Step 3 of 6
Mix the cornflour with half the cream until it forms a smooth paste.  Gradually add the remaining cream then add the Carnation vegan, lime zest and juice. Beat until smooth.
Step 4 of 6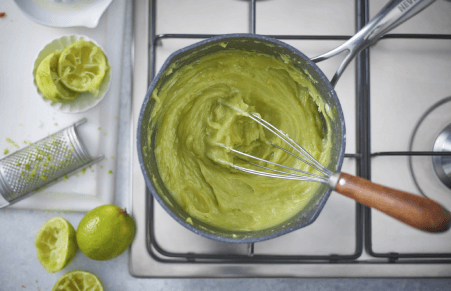 Pour the creamy mixture into a non-stick pan and heat gently, whisking all the time until it comes up to the boil and thickens.  It will be very thick! Don't worry! Transfer the mixture into a bowl and leave to cool for 5 minutes.  Beat a few small drops of food colouring into the mixture to add a touch of limey greenness if you like…
Step 5 of 6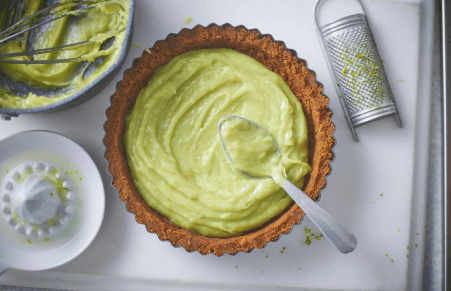 Spread the filling into the base and smooth over the top. Chill for 4 hours or overnight. 
Step 6 of 6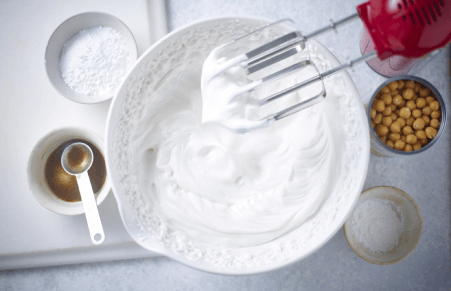 When ready to serve; make the aquafaba topping.  Drain the can of chickpeas into a bowl – tip the chickpea water into a large bowl with the cream of tartar and whisk with an electric hand mixer until the mixture is like meringue (this might take several minutes!).  Add the vanilla and while still whisking gradually add the sugars until you have light marshmallow-y clouds of meringue like mixture (again beat it really well until its really thick). Use to top the pie making little peaks as you go.  You can serve like this or if you have a blow torch you can caramelise the outside.
You can make a lemon pie really easily too – swap 2 limes for 1 lemon…
Look out for dairy free crème fraiche or plant based whipping cream which would also be great to top this pie if you don't want to make the aquafaba meringue.
Have you tried making this delicious recipe yet?
Let us know by reviewing it below