Vegan Salted Caramel Millionaire's Shortbread
Quite Easy
Using a sugar thermometer is the best way to know that the caramel layer is spot on.. they're not as expensive as you might think!
These squares of crumbly shortbread topped with sweet and salted caramel with a smooth layer of dark vegan chocolate on top.  Coffee break anyone?
Nutrition and allergy information
Be the first to review this recipe!
---
Vegan butter alternative (such as Stork baking block)
20cm square cake tin, lined with an oversize sheet of parchment (overlapping the sides to make it easy to remove from the tin once finished).
Step 1 of 7
Preheat the oven to 180C, (160°C for fan ovens), Gas Mark 4.
Step 2 of 7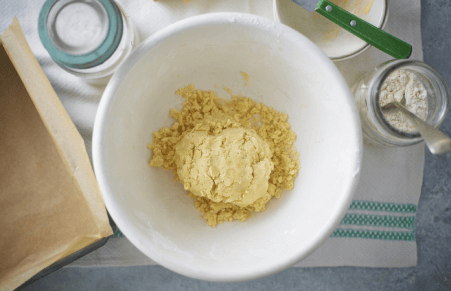 Mix the flour and sugar in a mixing bowl with a tiny pinch of salt.  Rub in the vegan spread into the flour mixture in your fingertips.  Keep combining the mixture until it just comes together as a ball of dough.  Do not over knead it at this stage.
Step 3 of 7
Press the dough into the base of the tin and push it out to make one even layer – you can use a flat-bottomed glass for this if you find it easier.
Step 4 of 7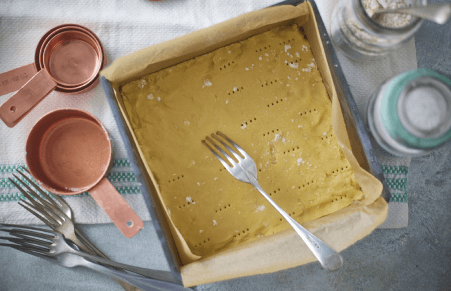 Fork the dough all over then bake for 20 minutes until very lightly golden on top. Set aside to cool for 15 minutes.
Step 5 of 7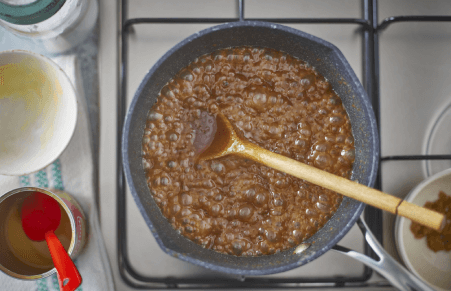 Meanwhile make the caramel; place the butter, brown sugar, Carnation Vegan and soya cream in a non-stick saucepan.  Heat the caramel, stirring all the time until it boils rapidly – it will take about 3-4 minutes to reach the ideal temperature of 116°C – or firm ball stage on a sugar thermometer (if you drop a little mixture into ice cold water it should form a firm non sticky ball in your fingers).  Leave to cool for a few minutes to thicken.
Step 6 of 7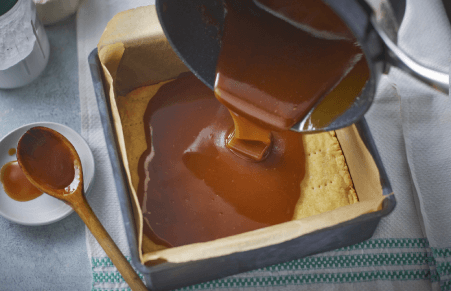 Pour the caramel over the shortbread and spread to the sides.  Cool and then set in the fridge or freezer if you are short on time. 
Step 7 of 7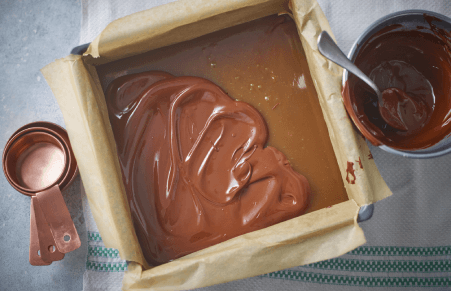 Finally melt the chocolate and spread over the top. Chill until set.  Using a knife briefly dipped into boiling water and then dried, cut the millionaires into squares and enjoy! Keep the millionaires in the fridge, they will keep for about a week (or less in the Carnation kitchen!).
Have you tried making this delicious recipe yet?
Let us know by reviewing it below