Pistachio and Chocolate Burfi
Quite Easy
Try this showstopping Indian recipe that never fails to impress. All you need for the Pistachio and Chocolate Burfi recipe is 8 ingredients and 20 minutes. That's it! Guaranteed this mouthwatering treat will become a request for every special event like Diwali! Your friends, family and guests will enjoy these delicious sweet treats time and again.
Nutrition and allergy information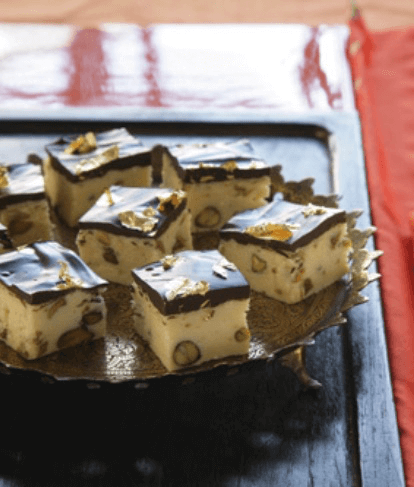 Be the first to review this recipe!
---
Step 1 of 4
Mix the milk powder and double cream in a bowl until it forms a thick and crumbly paste.
Step 2 of 4
Heat the butter or ghee over a low heat for a couple of minutes, stir in the nutmeg and pistachio and toast for a few minutes.
Step 3 of 4
Add the cream mixture and the condensed milk; the mixture will be solid to start with and will soften as you continue to heat it. Keep stirring until the mixture starts to come away from the sides.
Don't cook the mixture for too long to avoid making it chewy. 
Step 4 of 4
Pour into a non-stick tray and spread to a 2cm thickness. Spread over the melted chocolate and decorate with gold or silver leaf. Allow to cool and then cut into square shapes.
For best results allow the mixture to cool for an hour beforing cutting it into squares. This is a necessary step, so if you are in a hurry, it's totally within the rules to put it into the fridge for 30 mins.
Have you tried making this delicious recipe yet?
Let us know by reviewing it below