Millionaire's Salted Caramel Tart
Super Easy
Nutrition and allergy information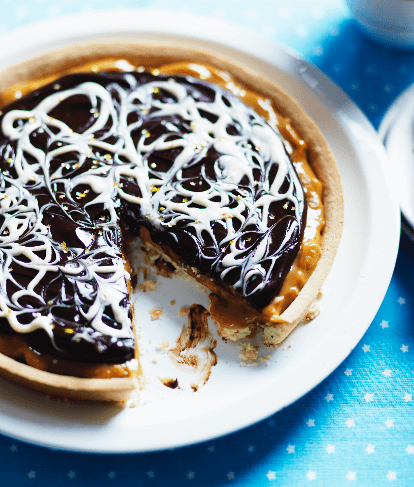 Be the first to review this recipe!
---
Edible glitter gold stars
Step 1 of 3
Spread the caramel into the pastry base – don't be tempted to beat it first or it will go runny! Sprinkle a little salt over the top of the caramel.
Step 2 of 3
Melt the dark chocolate and evaporated milk together gently in the microwave or in a bowl over a pan of simmering water. Beat until smooth and glossy.
Step 3 of 3
Gently spread the chocolate mixture over the caramel base. Melt the white chocolate and drizzle with a teaspoon over the top of the tart (or use a piping bag). Use a cocktail stick to swirl the chocolate for a marbled effect then sprinkle with a few gold stars!
Have you tried making this delicious recipe yet?
Let us know by reviewing it below