Lemon and Berry Ice Cream Layer
Bit Tricky
This is a real no-fuss dinner party centre piece that you can make a day or two ahead. You won't believe how easy it is to make – the perfect way to celebrate the fruit of the season.
Nutrition and allergy information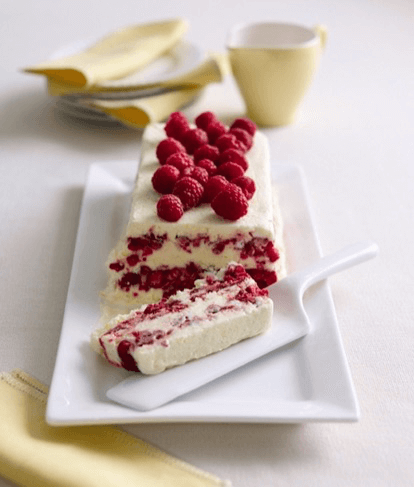 Stunning dessert! Made this now 5 times it's easy to do and tastes fantastic!!!
---
Strawberries, topped and finely chopped
Strawberry or raspberry jam
Step 1 of 5
1. Double line the tin with cling film, allowing plenty of excess film to overlap the edges of the tin. Break the meringues into small pieces – but not too small.
Step 2 of 5
Whip the cream to soft peaks and then stir in the condensed milk. Add the lemon zest and juice – the mixture should thicken.
Step 3 of 5
Mix the berries with the jam.
Step 4 of 5
Pour a few spoonfuls of the cream mixture to just coat the base of the tin. Sprinkle over half the meringues and then scatter over half the jammy berries. Repeat the layers finishing with the cream mixture.
Step 5 of 5
Wrap the cling film over the top of the tin and freeze for 4 hours or overnight. Remove from the freezer 15 minutes before serving.
Have you tried making this delicious recipe yet?
Let us know by reviewing it below