Cookies and Cream White Chocolate Fudge
Super Easy
The options for this recipe are endless - use any cookies or sprinkles you like to personalise it however you like...
Our cookies and cream white chocolate fudge is so simple to make, with only four ingredients and no cooking involved (just a little bit of melting). Make with the family as a tasty simple treat you can all enjoy!
Nutrition and allergy information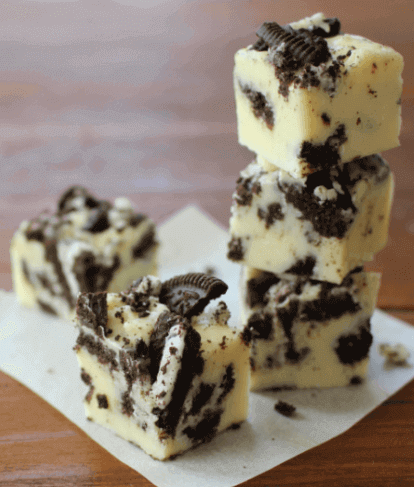 Simple and delicious! I made this with my 3 year old as a Father's Day Gift. Taste test rating was 10/10 from Daddy!
---
Irish cream liqueur (optional)
Sandwich cookies (such as Oreos)
Step 1 of 4
Break or chop the chocolate into small chunks and place in a non-stick saucepan with the condensed milk and liqueur if using.  Melt the ingredients gently over a low-medium heat, stirring occasionally until smooth and silky.  (Alternatively melt in the microwave in 10-20 second bursts, stirring frequently).
Step 2 of 4
Chop the cookies into small pieces and fold into the fudge mixture.
Step 3 of 4
Line the tin with baking parchment so that it overlaps the sides (this will help you lift the fudge out once it's set).  Press the fudge into the tin.
Step 4 of 4
Chill the fudge for 1-2 hours or until completely set before cutting.  The fudge will keep in the fridge for up to 2 weeks (if it lasts that long!).
Have you tried making this delicious recipe yet?
Let us know by reviewing it below