White Chocolate Mince Pie Fudge
Super Easy
This is an excellent way to use up any leftover mincemeat you may have after baking Christmas goodies! Swirl a couple of tablespoons of mincemeat through our easy chocolate fudge recipe for a Carnation twist on a Christmas classic (without the crumbs!)
Nutrition and allergy information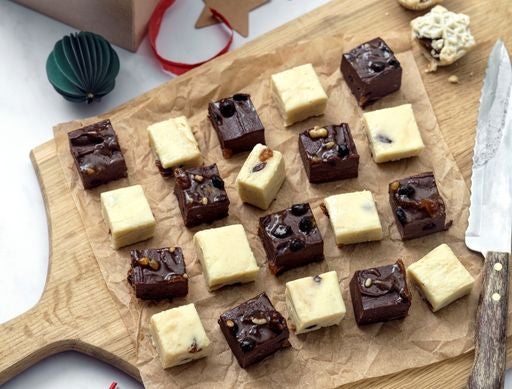 Be the first to review this recipe!
---
White chocolate OR dark chocolate
20cm (8in) square tin, lined with baking parchment
Step 1 of 1
Break or chop the chocolate into small chunks and place in a non-stick saucepan with the condensed milk.  Melt the ingredients gently over a low-medium heat, stirring occasionally until smooth and silky.  (Alternatively melt in the microwave in 10-20 second bursts, stirring frequently).
Allow to cool for 5-10 minutes and then gently swirl the mincemeat through the mixture. Spoon the fudge into the prepared tin and pop into the fridge for at least an hour to set. Then cut into squares.
Have you tried making this delicious recipe yet?
Let us know by reviewing it below