White Chocolate Millionaire's Shortbread
Bit Tricky
A simple twist on a delicious classic.
Nutrition and allergy information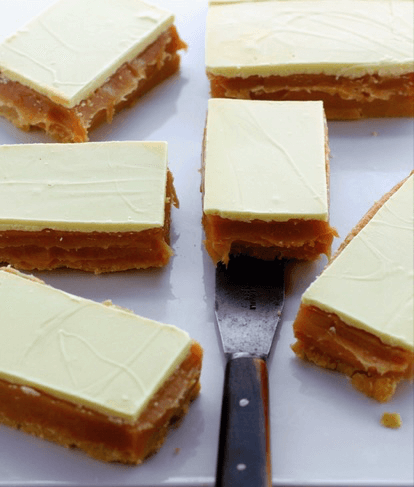 Yummy! This is one of my all time favourite recipes, my boys really love it too !
---
Shortbread biscuits, crushed
White chocolate, roughly chopped
Square baking tin, loose-based. 20cm x 20cm x 5cm deep, lined with parchment
Step 1 of 4
Put the crushed biscuit in a bowl with the melted butter. Mix it thoroughly, then press the mixture in to the base of the tin. Chill for 20 minutes.
Step 2 of 4
Place the butter and sugar in a non-stick saucepan over a low heat, stirring until the butter melts and the sugar dissolves. Add the condensed milk and bring gently to a rapid boil, for a couple of minutes, stirring continuously, to make a thick caramel. Remove from the heat and leave to cool slightly.
Step 3 of 4
Pour the caramel over the crumb base in an even layer. Leave to cool while you melt the chocolate. Place the white chocolate into a small bowl and heat gently in a microwave; in short bursts until it has melted.
Step 4 of 4
Pour the melted white chocolate over the caramel, spreading it out to the edges. When the chocolate has hardened a little, but before it has set hard, cut into slices, and enjoy with a cup of coffee.
Have you tried making this delicious recipe yet?
Let us know by reviewing it below