Surprise Rainbow Pinata Cupcakes
Quite Easy
Put a colourful spin on the traditional vanilla cupcakes with this stunning Surprise Rainbow Pinata Cupcakes recipe. These colourful cupcakes will be the centre of attention at any party. Watch as the children's faces light up as soon as they bite into the secret cave of colourful sprinkles waiting for them at the centre of the Rainbow Pinata Cupcakes.
Nutrition and allergy information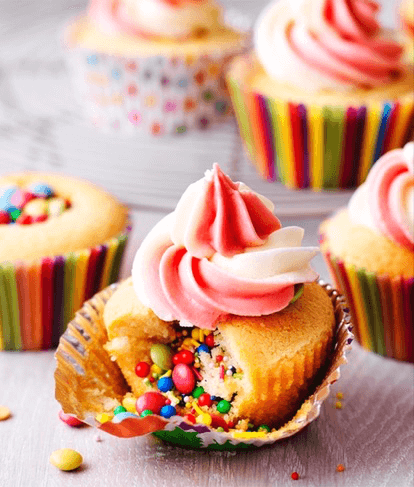 Be the first to review this recipe!
---
*recipe based on 70% fat buttery baking spread
You will also need...
12 hole muffin tin and muffins cases
Step 1 of 4
Preheat oven to 180°C (160°C for fan ovens), Gas Mark 4. Place the cupcake ingredients in a large bowl and using an electric whisk, beat together until pale and creamy.
Make sure you adjust the temperature for fan ovens for the perfect bake!
Step 2 of 4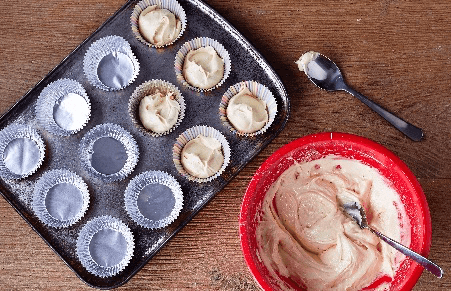 Spoon mixture equally between the muffin cases. Bake for 15-18 minutes until springy and golden. Allow to cool. Beat icing sugar, buttery spread and vanilla with enough condensed milk to make a thick icing.
For perfectly even cupcakes use an ice cream scoop to put the mixture into the cases.
Step 3 of 4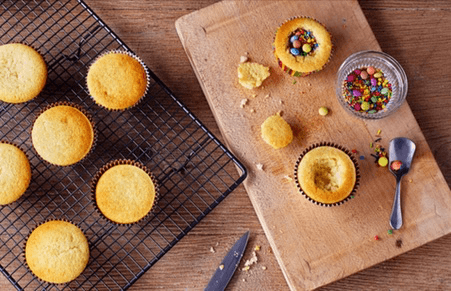 Using a sharp knife, cut a circle into the centre of the cupcakes to create a little pocket about 2.5cm deep. Set aside the cone shaped pieces. Divide the chocolate beans between the holes. Slice off a little of the cake from the cone so that it can fit on top of the filling
Step 4 of 4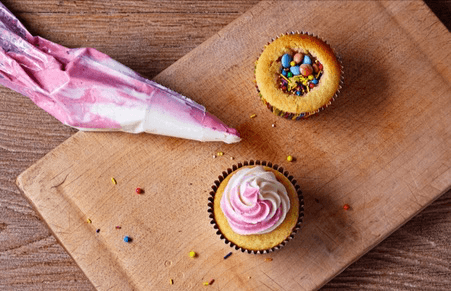 Divide the icing between 2 bowls and beat a little colouring into each. Spoon the buttercream into a piping bag, a colour at a time, making sure one colour sits down one side and the other colour sits down the opposite side of the piping bag. Pipe on top of each cake.
Have you tried making this delicious recipe yet?
Let us know by reviewing it below