Strawberry And Elderflower Panna Cotta
Super Easy
Looking for a crowd pleaser for your summer garden party? Try our incredibly simple Strawberry and Elderflower Panna Cotta recipe. Celebrate the flavours of the warmer months with fresh British Strawberries and the floral aroma of elderflower. Ready in just 15 mins, this dessert is ideal if you're looking for delicious flavour in moments.
Nutrition and allergy information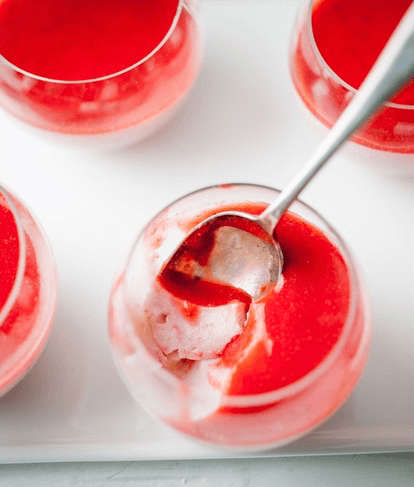 Easy, Adaptable, Delicious! Amazing recipe, made with pears and no elderflower. Had to make double as my work mates fought over...
---
A large serving bowl or individual serving bowls
Step 1 of 3
Blend the strawberries and place 150g in a bowl with the condensed milk and the elderflower cordial.
Step 2 of 3
Soak the gelatine in ice cold water to allow to bloom, drain off the cold water and pour over the boiling water. Stir until all the gelatine has dissolved, then mix with the strawberry mixture.
Step 3 of 3
Pour into a serving bowl or into individual bowls and place in the fridge to set. Once set spoon the remaining strawberries over the panna cota and serve.
Try a thin piece of shortbread as the perfect accompaniment to your Strawberry and Elderflower Panna Cotta recipe. 
Have you tried making this delicious recipe yet?
Let us know by reviewing it below