No Churn Passion Fruit And Ginger Ice Cream
Bit Tricky
Try our easy No Churn Passion Fruit and Ginger Ice Cream recipe. Made with our Carnation Condensed Milk - this is perfect as an indulgent treat for all the family. No need to stir it - just throw it in the freezer and in a few hours you'll have a perfectly smooth ice cream loaf. A real taste of summer, this Passion Fruit and Ginger Ice Cream has it all - fruity, sweet and creamy!
Nutrition and allergy information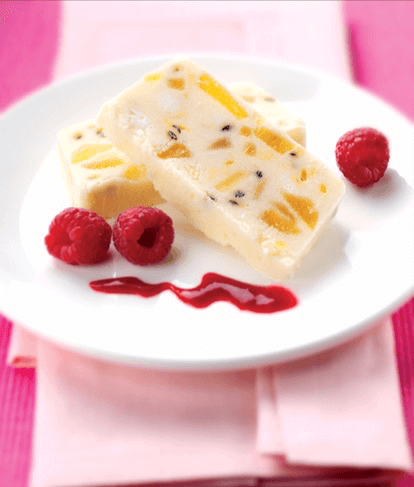 Be the first to review this recipe!
---
Stem ginger in syrup, roughly chopped
Prepared raspberry coulis and fresh raspberries
Step 1 of 3
Scoop the flesh from the passion fruits into a large bowl. Stir in the remaining ingredients and mix well.
Step 2 of 3
Freeze for 1-2 hours or until slushy, stir the mixture well to break up the ice crystals. Transfer the mixture to the tin. Freeze until solid (approx. 2 hours).
Step 3 of 3
To serve, remove from the freezer and allow to stand for 10 minutes, then serve in slices drizzled with raspberry coulis and scattered fresh raspberries.
Have you tried making this delicious recipe yet?
Let us know by reviewing it below