Fat Free Mango And Passion Fruit Fool
Super Easy
Create a perfectly creamy and fruity dessert in just 10 minutes with our Fat Free Mango and Passion Fruit Fool recipe. With it's rich and smooth flavours, you'll find it hard to believe that it's fat free! And, it's made in just 3 easy steps so you can enjoy a taste of the tropics in no time.
Nutrition and allergy information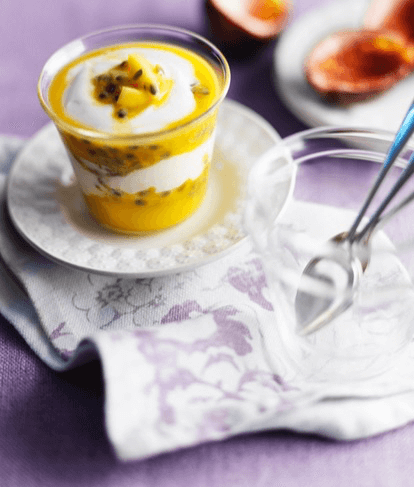 Be the first to review this recipe!
---
Fresh mango pieces, chopped (or drained canned mangoes, chopped)
You will also need…
Wine glasses or tumblers
Step 1 of 4
Mix the condensed milk and lemon juice together in a small bowl – the mixture should thicken. Gently fold through the Greek yogurt.
Step 2 of 4
Halve the passion fruit and scoop out the seeds and juice into a small bowl. Add half of the chopped mango and stir together. Blend the other half of the chopped mango to a smooth sauce in a small food processor or with a hand blender.
Step 3 of 4
Layer the chopped fruit, creamy mixture and mango sauce into wine glasses or tumblers, finishing with the chopped fruit. Chill for 1 hour before serving.
Make this easy recipe with any fruit you like we love raspberries and strawberries or pineapple and kiwi. 
Have you tried making this delicious recipe yet?
Let us know by reviewing it below