Disappearing Easter Bunny Cupcakes
Quite Easy
Everyone will enjoy creating these playful cupcakes. Just make sure they don't hop away before you can enjoy them!
Nutrition and allergy information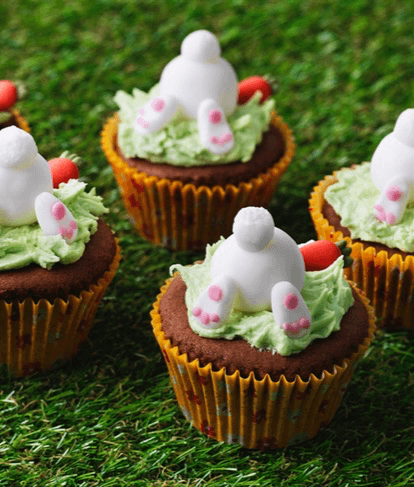 Be the first to review this recipe!
---
For the cupcakes:
Plain flour
Few drops vanilla extract
Ready to roll white icing and pink writing icing
Carrot sugar decorations, optional
*Recipe based on 70% fat buttery baking spread.
12 hole muffin tin and muffin cases
Step 1 of 5
Preheat oven to 180°C (160°C for fan ovens), Gas Mark 4.
Step 2 of 5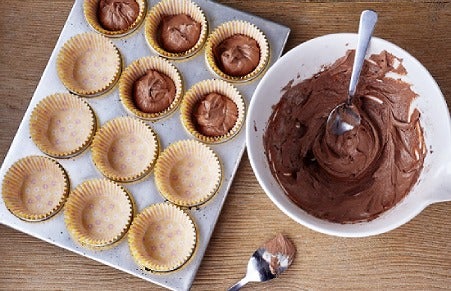 Place the flour, cocoa powder, 250g Carnation condensed milk, egg and ½tsp vanilla, 85g buttery baking spread and baking powder into a bowl and beat with an electric hand mixer for 2-3 minutes until pale and creamy. Spoon mixture into the cases. Bake for 15-18 minutes until springy and golden.  Transfer to a cooling rack to cool.
Step 3 of 5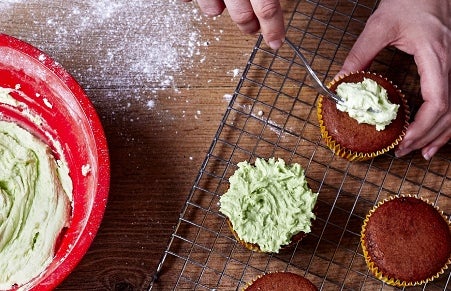 Beat icing sugar, remaining buttery baking spread, vanilla and green colouring, with enough condensed milk to make a thick icing. Spread onto cakes and rough with a fork.
Step 4 of 5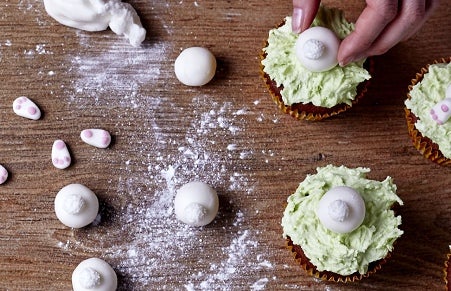 To make the bunnies, roll 12 x 18g balls of the white fondant and 12 pea -sized balls. Rough up the small balls with a cocktail stick, for the tails. Place the large ball in the middle of the icing, stick the tail to the body with a little water. To make the feet, roll out the remaining icing and using a small oval cutter, cut out 24 feet. Pipe 3 dots on the bottom of the feet and one in the centre. Stick the feet to the bunny using a little water.
Have you tried making this delicious recipe yet?
Let us know by reviewing it below