Christmas Cranberry Cheesecake
Quite Easy
If you fancy something seasonal but not quite so heavy try our fruity, creamy Christmas cheesecake, so quick to make it will leave you plenty of time for wrapping last minute presents!  Make the base and then add the cranberry coulis just before serving.
Nutrition and allergy information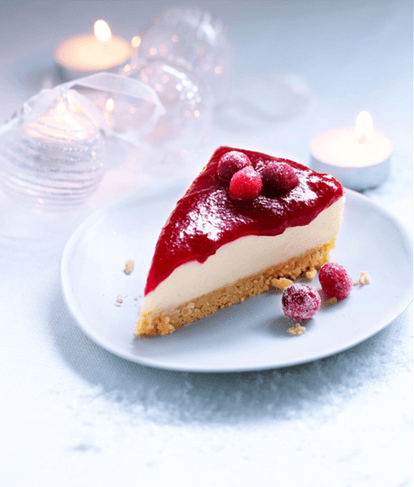 Great Success! I can't understand the previous review as i had great success with this recipe. in fact I made it as an...
---
Digestive biscuits, crushed
Pack frozen (and defrosted) or fresh cranberries
18cm spring form tin, base lined with baking parchment
Step 1 of 4
Mix together the crushed biscuits and melted butter then lightly press into the tin. Chill for 10 minutes.
Add a sprinkling of ground almonds to the biscuit base or use different biscuits for this recipe – try lighter dark chocolate digestives (reduced 30% less fat than standard).
Step 2 of 4
Beat the light condensed milk and soft cheese together until completely smooth. Add the lemon juice and combine thoroughly (watch the mixture thicken!). Spread the creamy filling over the base. Chill for 2-4 hours.
This cheesecake sets perfectly without the need for gelatine thanks to the natural setting effect of lemon juice on condensed milk. 
Step 3 of 4
Tumble the berries into a small pan with the sugar and 100ml water, cover and simmer for 5 minutes until the berries are soft and pulpy. Reserve a tablespoonful of the softened, pulpy berries, for decoration and then push the rest of the mixture through a sieve. Chill the cranberry coulis until ready to serve.
Step 4 of 4
Remove the cheesecake from the tin and place on a serving plate. Gently pour the cranberry coulis over the cheesecake, spreading out to the edges to serve.
Have you tried making this delicious recipe yet?
Let us know by reviewing it below