Caramel Knickerbocker Glory Sundae
Super Easy
Take your sweet treat game to the next level with this Caramel Knickerbocker Glory Sundae recipe. The towering sundae is made up of layer upon layer of caramel, pears, ice cream and nuts - just delicious! This dessert will satisfy everyone's sweet tooth and can impress even the most sophisticated friends. So make sure you have your long spoons ready.
Nutrition and allergy information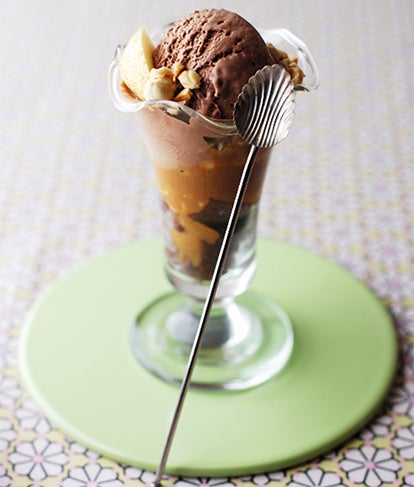 Yummie Grandkids love it and want more and more then don't want to go home!
---
Chocolate muffin, chopped
Chopped, roasted hazelnuts
Scoops triple chocolate ice cream
Step 1 of 4
Take a few pieces of chocolate muffin and divide them between 4 sundae glasses. Beat the caramel to a sauce and drizzle over a generous amount into the glasses, add a sprinkle of roasted hazelnuts and a few pieces of pear.
Use the best chocolate muffin you can find for this recipe… it makes all the difference.
Step 2 of 4
Top each sundae with a scoop of ice cream and repeat the layers of caramel, nuts and pear.
Step 3 of 4
Finally top with grated chocolate and serve with very long spoons!
For a truly delicious last spoon add some melted caramel to the bottom of each sundae glass.
Have you tried making this delicious recipe yet?
Let us know by reviewing it below