Beijinho de Coco from Brazil (Coconut Kisses)
Quite Easy
A taste of Brazil.  These little sweets look just like snow balls. A lovely coconut treat.
Nutrition and allergy information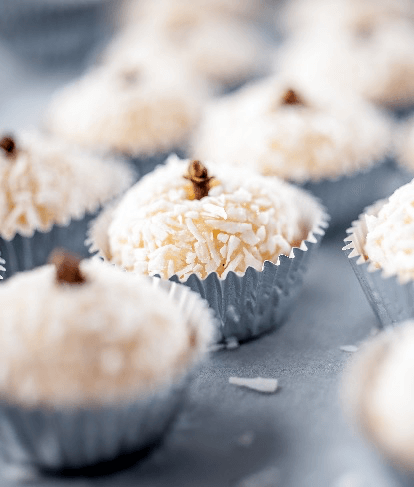 Coconut kisses! I made this before and every body loved it very easy to make also can be prepared the day before delicious!
---
Extra coconut for rolling
*Recipe based on 70% fat buttery baking spread
Step 1 of 4
Place a non-stick saucepan over a medium heat and add the buttery baking spread and Carnation Condensed Milk. Bring to a medium boil, stir constantly until the mixture thickens and halves in volume. This should take about 10-15 minutes.
Step 2 of 4
Tip in the desiccated coconut and add the vanilla extract, mix through well and pour into a shallow dish. Chill in the fridge for 2 hours.
Step 3 of 4
Sprinkle the extra coconut onto a plate. Roll small amounts of chilled mix into balls then place on the coconut. Give them a shake until they are completely covered.
Step 4 of 4
Now they'll look like little snowballs, so pop them into mini cupcake cases and finish them with a clove placed into the top.
Have you tried making this delicious recipe yet?
Let us know by reviewing it below