No Bake Strawberry Cheesecake
Quite Easy
To ensure the perfect soft set - always make sure that you use full fat cream cheese .  You also need at least 60ml of lemon juice to set the filling (1 lemon should have around 30-40ml juice, depending on the size so always go for the largest ones you can find). Chill the cheesecake without the topping and add this just before serving.
Simple, quick and truly yummy, our no-bake strawberry cheesecake recipe is an all-round family favourite. Made with fresh strawberries and our rich and creamy Carnation Condensed Milk, this delicious dessert is a great treat. It's perfect for special occasions, dinner parties or just simply as an after dinner treat. Best of all, there's no baking involved!
Nutrition and allergy information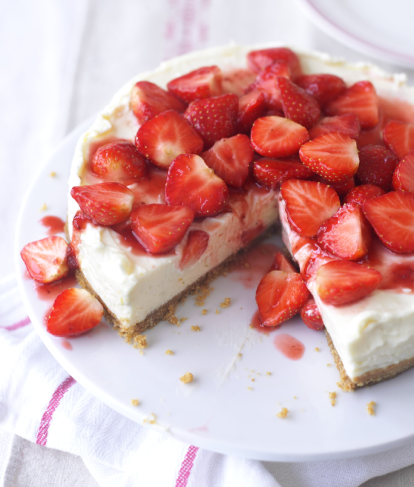 Amazing and super easy No baking skills required. Quick and absolutely delicious.
---
Digestive biscuits, crushed
Large lemons, juiced (4tbsp or 60ml)
Punnet fresh strawberries
20cm loose-bottomed cake tin
Step 1 of 3
Put all the crumbs in a bowl, then mix in the baking spread. Put this in the tin and press it down to make the base for your strawberry cheesecake. Refrigerate for 10 minutes.
Step 2 of 3
Meanwhile, add the condensed milk to a big bowl, then add your cheese and whisk it all together. Stir in the lemon juice, which will make it thicken, and pour on top of the biscuit base. Chill for two hours – but don't add the strawberry topping yet!
Step 3 of 3
To serve, remove the cheesecake from the tin to a plate. Cut the strawberries in half and mix with the strawberry jam – then spoon the jammy berries onto the cheesecake and serve.
For best results: always put the strawberries on just at the last minute before serving our no bake strawberry cheesecake recipe. The base and filling can be chilled without the strawberry topping overnight if you prefer! 
Have you tried making this delicious recipe yet?
Let us know by reviewing it below