Christmas Cake Ice Cream Bombe
Quite Easy
This is a great way to use up leftover Christmas cake - add brandy to make a whole new pudding! Make cranberry compote to serve with this festive pud: simmer fresh cranberries with a splash of water and sugar to taste.
Nutrition and allergy information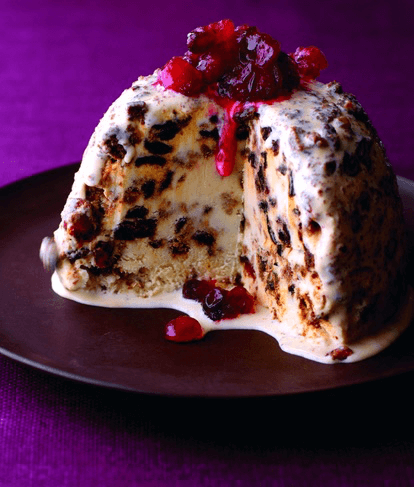 Be the first to review this recipe!
---
Carton light crème fraîche
Christmas pudding, crumbled
900g pudding basin, lined with a double layer of cling film
Step 1 of 4
In a large bowl whisk, together the condensed milk, cream, crème fraîche, vanilla and brandy until smooth and creamy.
Step 2 of 4
Pour the mixture into a shallow plastic container and freeze until slushy (2-3 hours). Beat with a fork, then stir in the crumbled Christmas cake. Put the container back into the freezer until nearly frozen, and then repeat this process to stir gently, once more.
Step 3 of 4
Pour into the pudding basin and freeze overnight.
Step 4 of 4
When ready to serve, turn the parfait out onto a serving plate and remove the clingfilm.
Have you tried making this delicious recipe yet?
Let us know by reviewing it below