Sweethearts Strawberry Jam Biscuits
Super Easy
These delicious strawberry jam biscuits are great for Valentine's Day! Seriously jammy, and easy on the eye, these clever little biscuits are sure to make you popular!
Nutrition and allergy information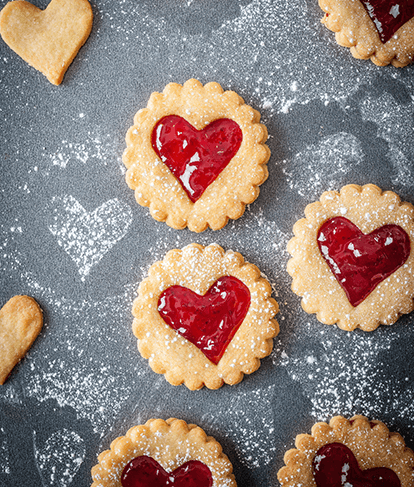 Be the first to review this recipe!
---
*Recipe is based on 70% fat buttery baking spread. 
A lined baking tray, 2 inch round cookie cutter and a small heart shaped cookie cutter
Step 1 of 6
Watch our short video showing you how to make these tasty jam heart biscuits
Step 2 of 6
In a large bowl, cream the buttery baking spread, sugar and condensed milk until light and fluffy. Add the self raising flour and mix until it forms a soft dough. Roll into a ball and wrap with clingfilm. Place the dough in the fridge for 30 minutes until firm.
Step 3 of 6
Preheat the oven to 180°C, (160°C for fan ovens), Gas Mark 4.
Step 4 of 6
Remove the dough from the fridge and roll out on a floured surface until it is a as thick as a one pound coin. Cut out circles using the round cutter and place onto a lined baking tray. When all the circles are cut, use the small heart-shaped cutter to remove the middle of half of the biscuits, these will form the tops of your biscuits.
You might find it easier to roll portions of dough at a time rather than the whole ball of dough.
Step 5 of 6
Place in the centre of the oven and bake for 10 minutes or until they are just turning golden. Remove from the oven and leave to cool.
Step 6 of 6
Separate the biscuits into tops and bottoms. Lightly sieve the icing sugar over the tops. Spoon the jam into a thin layer over the bottoms and then sandwich together with a dusted top.
Have you tried making this delicious recipe yet?
Let us know by reviewing it below