Red Velvet Snowball Cupcakes
Super Easy
For all the coconut lovers out there, try our delicious snowball cupcakes, great for Christmas bake sales, or for treating family and friends.  
Nutrition and allergy information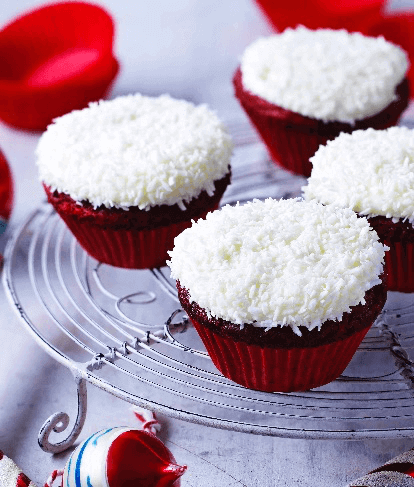 Be the first to review this recipe!
---
*Recipe based on 70% fat buttery baking spread. 
12 hole muffin tin and muffins cases
Step 1 of 4
Preheat the oven to 180°C, (160°C for fan ovens), Gas Mark 4. Place the flour, condensed milk, egg, vanilla, buttery baking spread, cocoa powder, baking powder and red gel food colouring into a bowl and beat...until light and fluffy.
Step 2 of 4
Spoon into the cupcake cases and bake for approximately 15-18 minutes until springy to the touch. Transfer to a cooling rack to cool.
Step 3 of 4
Beat the icing sugar and buttery baking spread in a bowl until light and fluffy, then add the condensed milk and cream cheese and beat until combined. Spoon or pipe tablespoons of the frosting onto the middle of the cake.
Step 4 of 4
While the icing is still soft, dip each top into the coconut (the icing will spread). 
Look out for Christmassy sugar decorations or edible glitter for a really frosty snowy effect.
Have you tried making this delicious recipe yet?
Let us know by reviewing it below