Raspberry and White Chocolate Chunk Cookies
Quite Easy
Crispy on the outside and soft in the middle - these cookies won't last long! The sweet heavenly scent will fill your home as they bake!
Nutrition and allergy information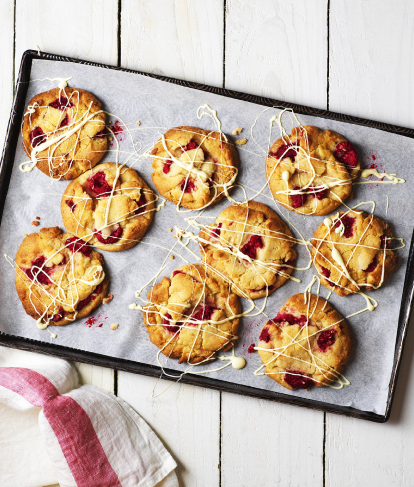 Fantastic Recipe - best cookies I have ever made! The recipe was easy to follow and will be doing this again!
---
Unsalted butter, softened
Step 1 of 4
Preheat the oven to 180◦C, (160◦C for fan ovens), Gas Mark 4.
Step 2 of 4
In a large bowl, cream the butter, sugar and condensed milk until pale. Mix in the flour and then work in the chocolate.
Step 3 of 4
Take a small handful of dough and flatten with your fingers. Place 2-3 raspberries into the centre of the cookie and squash the dough back into a rough ball. Repeat with the remaining dough.
Step 4 of 4
Place onto parchment lined baking trays, spacing well apart and bake for about 15-18 minutes or until golden brown at the edges, but still a little soft. Leave to cool slightly and set before transferring to a cooling rack.
You can freeze the dough complete with raspberries and chocolate in small mounds ready for baking straight from frozen! Or keep the dough plain and refrigerate for a week or so.
Have you tried making this delicious recipe yet?
Let us know by reviewing it below