Hazelnut and YORKIE® Chunk Cookies
Quite Easy
Crunchy on the outside with a gooey centre with toasted hazelnuts and YORKIE® chunks - what's not to like?
Nutrition and allergy information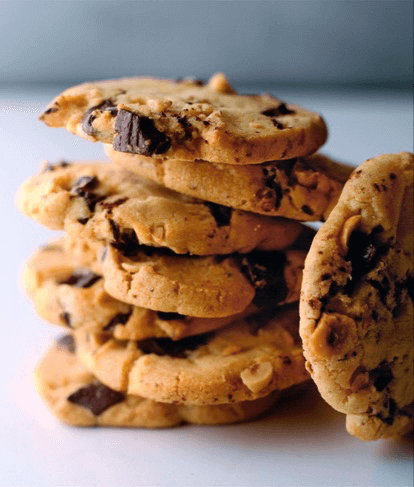 Sold on these!! I make these cookies every Christmas as part of a gift for family and friends - they all absolutely love them!
---
YORKIE® bars, chopped into chunks
Hazelnuts, roasted and chopped
*Recipe based on 70% fat buttery baking spread.
Step 1 of 3
In a large bowl, cream the buttery baking spread, sugar and condensed milk until pale. Mix in the flour and then work in the YORKIE® chocolate and the nuts.
Step 2 of 3
Divide the dough in half and place each in a square of cling film. Roll into two thick sausage shapes. Chill well.
Step 3 of 3
When ready to bake, preheat the oven to 180°C (160°C for fan ovens) Gas Mark 4. Peel off the clingfilm, cut off thick slices, and bake on baking parchment lined trays (spaced well apart) for about 15 minutes or until golden brown at the edges, but still a little soft.
This dough will keep quite happily in the refrigerator for a week or so or you can roll cookie dough balls and freeze them - then bake straight from the freezer!
Have you tried making this delicious recipe yet?
Let us know by reviewing it below