Fabulous Fruit Smoothie Lollies
Super Easy
Create your own delicious treats, perfect for the summer with our Fruit Smoothie Lollies recipe. Made with fresh fruit and decadent chocolate, these lollies are the ideal refreshment when you need to cool off. Follow our simple steps and you'll be making your very own Fruit Smoothie Lollies in no time! It's as easy as 1, 2, 3... 
 
Nutrition and allergy information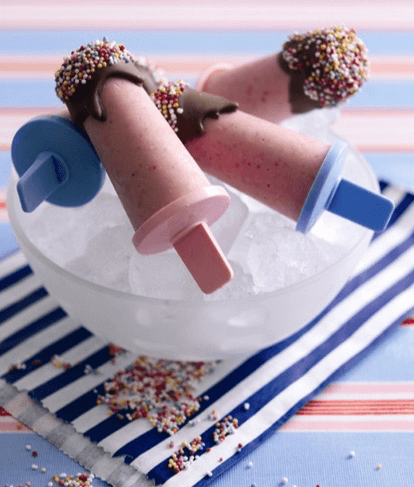 Be the first to review this recipe!
---
Fresh fruit such as strawberries
Fruit juice, such as cranberry or apple juice
Milk or white chocolate, to decorate
Sugar sprinkles, to decorate
Step 1 of 3
Whiz the condensed milk, fruit and juice in a blender until completely smooth
Step 2 of 3
Pour into the ice lolly moulds and then freeze until solid.
Step 3 of 3
To finish, melt the chocolate. Un-mould the lollies by dipping the tray briefly in hot water. Dip each lolly in the melted chocolate and then into the sugar sprinkles. Serve immediately or wrap in cling film and keep frozen for up to 1 week.
Why not try orange juice with fresh mango instead of strawberries, or add more fruit juice or water to this recipe and chill down for a luscious drinkable smoothie! 
Have you tried making this delicious recipe yet?
Let us know by reviewing it below