Caramel And Chocolate Chunk Brownies
Quite Easy
Serve these delectable Carnation caramel and chocolate brownies warm with a small scoop of vanilla ice cream for a perfect pudding.
Create the ultimate gooey treat with our Caramel and Chocolate Chunk Brownies recipe. Deliciously decadent with a surprise caramel twist, they're perfect for parties or afternoon tea with a friend. They're incredibly easy to make too, ready in 5 simple steps and they only take 30 minutes to bake. Learn to make these brilliant brownies with our step-by-step guide.
Nutrition and allergy information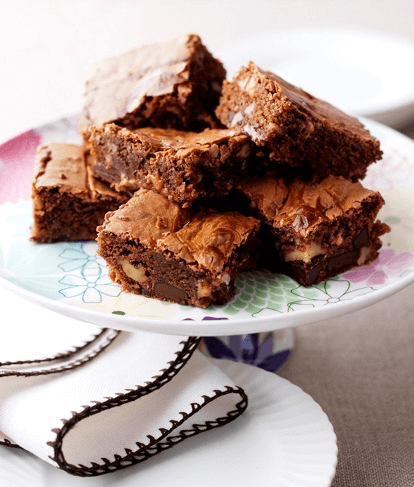 Best Brownies! This has become our 'house recipe'- I am continuously asked for the recipe but only share it with special people!
---
*Recipe based on 70% fat buttery baking spread. 
You will also need...
20cm square baking tin, lined with baking parchment.
Step 1 of 5
Preheat the oven to 180ºC (160°C for fan ovens) Gas Mark 4.
Step 2 of 5
Melt the buttery baking spread with a quarter of the chocolate gently in the microwave
Step 3 of 5
Beat the eggs with the sugar in a large bowl until light and fluffy and then sift in the flour and baking powder. Stir in the melted chocolate mixture.
Step 4 of 5
Add the rest of the chocolate and the walnuts. Spoon into the tin. Beat the caramel in a small bowl and swirl into the mix.
Step 5 of 5
Bake for about 35-40 minutes, they should still be sticky in the middle if you test with a knife! When cool, cut into squares.
Have you tried making this delicious recipe yet?
Let us know by reviewing it below