Blueberry and Passionfruit Cheesecake
Quite Easy
Make sure you have fresh preferably large lemons for this recipe - you'll need 4tbsp or 60ml for the perfect soft set cheesecake.
Cut through scrumptious creamy filling to reveal juicy blueberries and a shortcake base in this show-stopping pud!
Nutrition and allergy information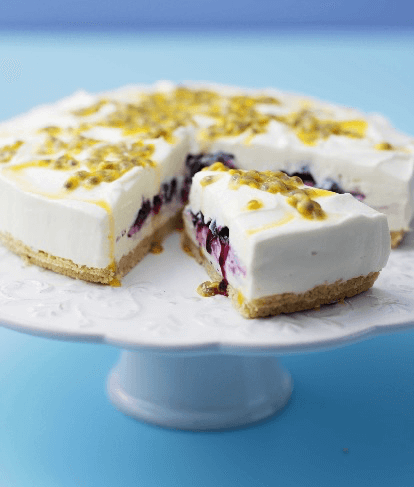 Best cheesecake around! A cheesecake that never disappoints whenever I make it.
---
Shortbread biscuits, crushed
Capital mascarpone cheese
20cm spring-form tin, lined with baking parchment
Step 1 of 5
Simmer the blueberries in a pan with the juice of half a lemon and the icing sugar until reduced to a thick syrupy sauce. Cool completely.
Step 2 of 5
Mix the biscuits the melted butter in a bowl then lightly press into the tin. Chill for 10 minutes.
Step 3 of 5
Whisk the condensed milk and Mascarpone cheese until completely smooth. Add the juice of 2 lemons (watch it thicken!).
Step 4 of 5
Spread half the cream mixture onto the biscuit base, spreading out to seal with the edges of the cake tin. Using a spoon make a large, shallow well in the centre. Spoon the cooled blueberry mixture into the well and top with the remaining cream mixture (don't worry if you end up with a some blueberry sauce mixed in – it will look lovely!). Chill for 4 hours.
Step 5 of 5
When ready to serve, carefully lift the cheesecake onto a serving plate. Halve the passion fruit and spoon the seeds onto the top.
Have you tried making this delicious recipe yet?
Let us know by reviewing it below