Banana Rum and Walnut Tea Cake
Bit Tricky
This great cake for tea time will use up all your overripe bananas and transform them into a scrumptious treat. The Banana Rum & Walnut Tea Cake recipe is also perfect for when the kids come home from school. You can leave the rum out completely for them if you prefer.
Nutrition and allergy information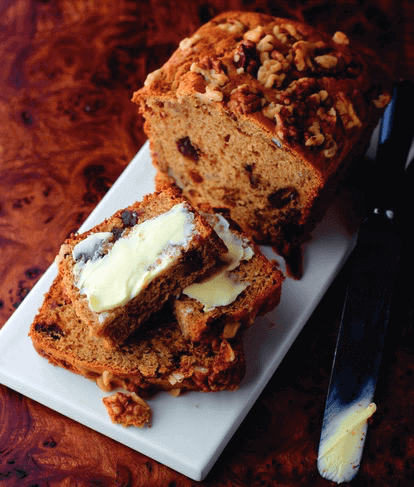 Be the first to review this recipe!
---
Stoned dates, roughly chopped
Finely grated zest and juice of a lemon
Medium bananas (approx. 150g lightly mashed with a fork)
*Recipe is based on 70% fat buttery spread
900g loaf tin, lined with baking parchment
Step 1 of 4
Preheat the oven to 170ºC, (150°C for fan ovens) Gas Mark 3. Place the dates in a small bowl along with the lemon zest and juice, bicarbonate of soda and 2 tbsp boiling water. Stir well and leave to cool, then add the bananas and rum.
Step 2 of 4
In a large bowl, whisk together the baking spread, sugar and condensed milk until smooth. Gradually mix in the eggs, then the banana, rum and date mixture. Sift over the flour and baking powder and then mix in. Reserve a small handful of the walnuts and stir the remainder into the cake mixture.
For a nuttier taste, toast the walnuts before adding them to the mixture.
Step 3 of 4
Transfer the cake mix to the prepared tin, sprinkle over the reserved walnuts and bake for about 1 hour 15 minutes or until a skewer comes out clean when inserted into the middle of the cake.
Step 4 of 4
Leave in the tin to cool for about 15 minutes, then turn out onto a wire rack. Delicious spread with butter or buttery spread.
When it comes to cutting the loaf, a good trick is to let it sit for a few hours or, if you have enough patience, even wait until the next day. This way the loaf won't crumble and the slices will be in perfect shape to be served next to a hot cup of tea.
Have you tried making this delicious recipe yet?
Let us know by reviewing it below