Baked Banoffee Pancakes with Toasted Almonds
Super Easy
Create a surprise twist on a firm family favourite with our Banoffee Pancake recipe. With their scrumptious center, this delicious dessert brings together two loved dishes for all banoffee fans that will impress friends and family alike. 
 
Nutrition and allergy information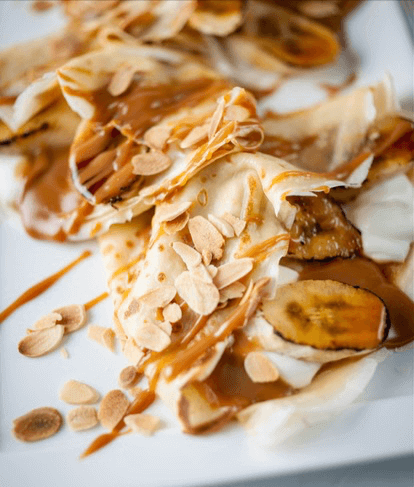 Be the first to review this recipe!
---
Step 1 of 4
Sieve the flour into a large bowl, whisk in the eggs, oil and milk until smooth. Cover and leave to rest for 2 hours.
Step 2 of 4
Pour a little oil into a hot non-stick frying pan. Ladel in enough batter to cover the bottom of the pan, tilting the pan so the batter goes right to the edges (try to keep the mixture as thin as you can). Cook for 1 minute, gently lift the edges of the pancake all the way round then slide the spatula or pallete knife under the pancake to flip it over. Cook this side for a further minute. Transfer to a plate and cover to keep warm.
Step 3 of 4
Slice the bananas (not too thin) and place on a lined baking sheet, sprinkle with sugar, then grill on high till browned.
Step 4 of 4
Fill the pancakes with the grilled bananas and a spoonful of crème fraiche, drizzle with caramel and scatter with the almonds.
Want to truly spoil yourself? Try our banoffee pancake recipe with a scoop of ice cream - we promise they go together wonderfully. 
Have you tried making this delicious recipe yet?
Let us know by reviewing it below